I had one goal this year, people. ONE FUCKIN GOAL.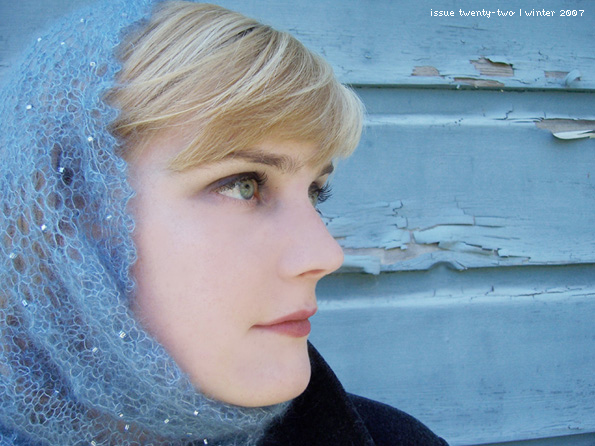 No, I'm not talking about soccer, you assholes - and I'm NOT a Soccer Mom, no matter what KOFA says! I'm talking about a knitting pattern.

I did so poorly meeting my 2007 goals last year (most of which I still didn't meet in 2008), that I only gave myself ONE goal for the entire year. Let me refresh your memory, from my January 4, 2008 post -

And as for my goals for 2008?

A) I will defeat the Ice Queen and document it for y'all's edification. If I'm up at 3am on December Thirtyfuckinfirst, I'll finish that bitch. I'll unload my Circular Needles of Terror and let her taste my wrath.

Beyond that, I don't know if I really want to set any other goals. My greatest achievements of the past year were the ones I didn't plan. So I think I'll sit back and see what learning experiences come my way if I open my mind to them.


So how am I doing on my one measly goal? I SUCK. I hadn't touched the bitch in months until I picked her up yesterday. I think I'm more than halfway done, but I don't remember what row I'm on and where to put the beads. I think I'm kinda going have to go for a stylishly haphazard sort of vibe. Stylishly haphazard sums my fashion sense up pretty well, I'd say.

And how about the learning experiences that came my way this year? Let's recap a few of my favorites. Click the links to refresh your memory, and if I've left your favorite out, please feel free to leave a comment and let me know what it was.


I had a birthday that didn't suck. (You still have 24 shopping days, by the way.)

I totally forgot about the Oscar Contest. Pam, Chris, Nell - send me your info again, please. I'm such an asshole, I'm ashamed of myself.

I went tits up at the Riverwalk, ate a deep-fried Twinkie, climbed Enchanted Rock, got totally wasted with my sister in Austin, and met an unforgettable man in Corpus who reminded me that Everybody's Carryin' Their Own Sacka Rocks.

I survived a Swamp Thing Home Invasion.

I had to call the Po-Po on a couple of 5th grade bitches.

I got out of Mother's Day at the Inlaws. Strep Throat is SO much more pleasant. By the way, I had Strep FOUR TIMES in 2008.

Helped out with Junior Achievement (Do I look like a muthahfuggin role model? To a kid lookin' up to me, life ain't nuttin but bitches and money).

Was seen in public with a dude in a skirt.

Went to Pride, and got the steal of a lifetime on Smitchwicks Ale at WalMart.

Watched in horror as my mother attempted to mount a hand dryer on the bathroom wall at Dairy Queen.

Sent my Beebie to Junior High.

Spent four hours and $400 at the dentist's office.

Proved to the world that I am a White Trash Mom, and damn proud of it.

Smoked Cubans with Rip.

And took him Pot Roast and Porn, just cuz I love the guy.

Accompanied Beebie on a date (along with Buffy and Princeton).

Blew my nose on my bedsheets. A PK Classic.

Got paid for watching a Presidential Debate, volunteered to work for the Dragon Lady (and promptly quit), and told the Church Nazi to SUCK IT.

Bought life-changing lingerie.

One word - LUBABA (Scroll down to G).

Placed at the Pevely Flea Market Halloween Costume Contest for the 3rd consecutive year.

In probably my favorite post of the year - Went to my very first Mammogram.

And took a date to my very second Mammogram.

Celebrated eleven years of wedded bliss with my best friend.

Got a DYSON!!

Continued to fight the Soccer Mom Stereotype.

AND... lost 26 pounds!!!

So, Ice Queen, sorry if I've neglected you.
I've been a little busy.