Just barely. Allow me to share some highlights:

As soon as I walked into the room, bracing myself for the onset of Sudden Slowmotion Mode, I was nearly knocked out by the scent of Wet Dog. Ugh.

Sodas were available in the cooler by the garage. There were three 7-Ups and three Dr. Peppers, and a two-liter of Cola de la Cheaparama. For twelve people.

As predicted, we'd been there over an hour before The Aldis made any sort of executive decision about Opening Gifts or Serving Cake.
Like I wanna be there all freakin' day.

Mulva's name is PAT. How appropriate. She was not wearing sequined sweats this time. I must confess, I was a wee bit disappointed.

I sat at the table with Mrs. Aldi's brother and his wife, discussing American Idol. Apparently the two of them are rather passionate Taylor Hicks fans. Mmmmmmkay.

Mrs. Aldi's dad regaled us all by telling us about an upcoming Estate Sale that he saw advertised. He wants put a bid on some kind of antique sled, that, according to him is "WORTH A FORTUNE". I haven't priced sleds recently, have you? I've been trying to come up with a way to describe this guy's voice, and the closest I can get is Ed McMahon meets Jeff Foxworthy.

I personally witnessed Mrs. Aldi herself quite stealthily retrieving plastic utensils from the trash and putting them in the dishwasher. Quelle faux pas delicieux!

Oh, the ballz on Mrs. Aldi's sister. I was minding my own business, as several of us were watching the Cards game. Cards leading 2-1, top of the ninth, 2 outs. Izzy loaded the bases. Full count. The windup... and the pitch... and just as the ball was leaving the pitcher's hand, SisterofAldi pops in a Barney video for her Autistic daughter, and nobody said a word. Oh, I was pissed. I had to wait until I got home two hours later to find out if we won the game (we did). Daughter also snagged her shoe on the living room rug and ripped a big run in it. This time, Mrs. Aldi's family, as a unit, told her that she should take the rug back. "Oh, absolutely take it back! How long have you had it? A rug should last longer than that!! I bought one at Target eleven years ago and it's still in great shape! I think I paid maybe twenty bucks for it, on sale..."
SHUT UP ALREADY!!

Remember how our gift was the Cheezeball Precious Moments First Communion GiftPack? Mrs. Aldi's parents gave the Aldi girl a Precious Moments figurine. Sorry if you like Precious Moments, but to me they have all the appeal of Baby Looney Tunes characters. I just think they look like little kids with Fetal Alcohol Syndrome. I was actually kinda glad R wasn't there when Aldi Girl opened it, or we'd have busted up laughing.


And now, a post within a post. The title of this post is:

OOPS, I DID IT AGAIN.

Ok. It's no secret that I absolutely hate managing money. I suck at it, I hate it, and every time I go to update the bank balance, I want to throw up. Not because there's not enough money in there, necessarily (although usually that is the case), I just get mad at myself when I look back at all the stupid crap I bought because I have zero restraint. I buy stuff like tea (but I love tea!) and candy (but I love candy!) and yarn (do I even need to say it?) and stuff for the kids that I think they'll like, and pizza when I don't feel like cooking, and clothes when I don't feel like doing laundry, and ice cream when I've had a rough day, etc. I'm so ashamed. I hope that confessing this to you will purge my soul. Here we go.

Exhibit A. Here's what I went to Wal-Mart to buy.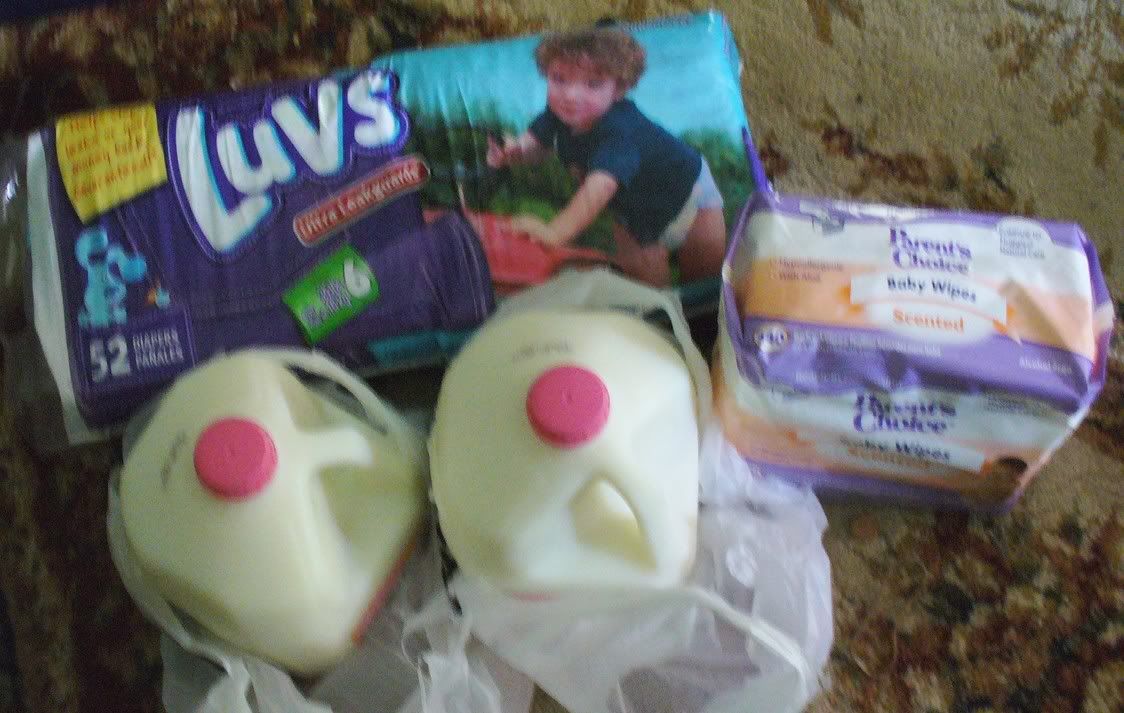 And here's Exhibit B, what I walked out with. I apologize for the quality of the photos, but you get the idea.




I'm so pissed at myself.

I'm not even going to tell you what I got at Hobby Lobby when I went in for a set of #7 DPN's so I could make myself a tea cozy using a Knitty pattern. Ok, it was a bunch of that cheapie $1.27 Sugar N' Cream cotton so I can make more nifty dishcloths like this one!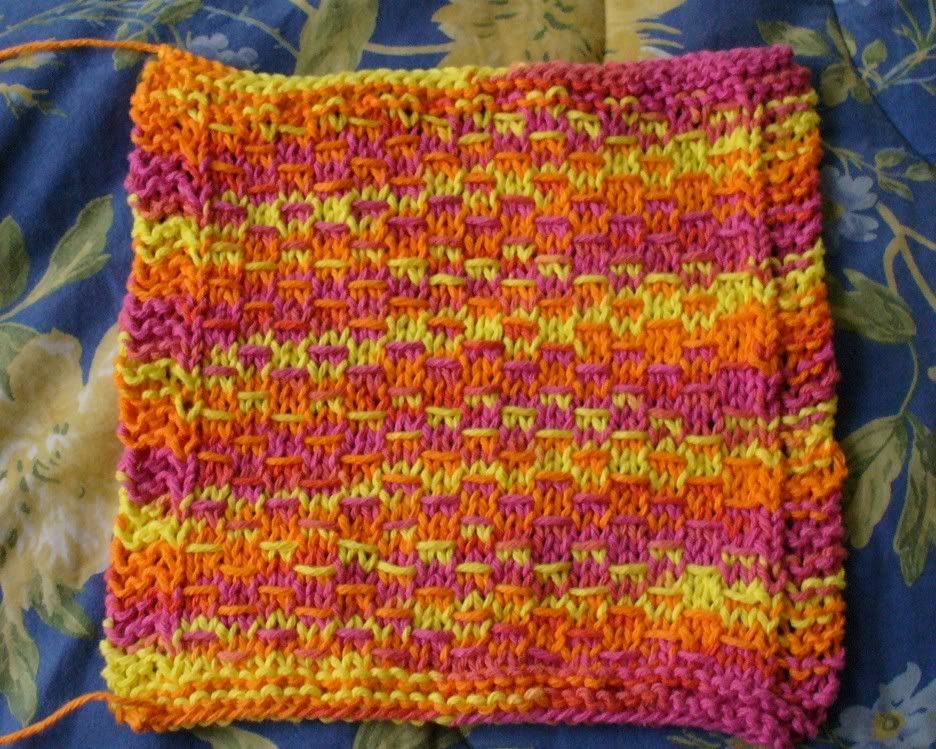 What a fun pattern! I found some yarn in the colors of my mom's kitchen so I'll make her a few. And I got red so I can make some for my Bama-lovin' sister.


I sent in my questionnaires for SP7 and Les Derrieres Frugales -
Part Deux!