But only if I can borrow this lady's dress. Gotta applaud her boldness. This pic was taken at a festival we happened upon in our Family Adventure Day Sunday travels. I think this was in the town of Brussels, Illinois.



















It was a cute little town festival thing, with really cheap prices on beer and food. Too bad we weren't hungry. We had lunch earlier in Louisiana, MO at a beautiful park overlooking the Mississippi River.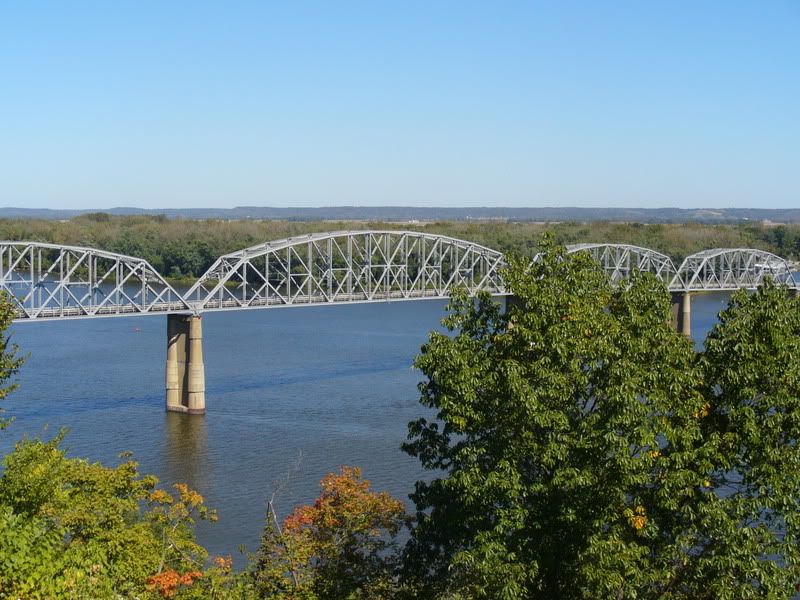 We love Sunday Drives. Paying $3 a gallon for gas didn't even stop us. And now that the fall colors are just starting to come out, it's time to ride the Great River Road. We drove up the Mississippi on the Missouri side, crossed the bridge at Louisiana, MO, and drove to Brussels, IL, took the ferry across the Illinois River to Grafton and finally reached our end destination - The Great Godfrey Maze.





Somehow, walking through two miles of corn wasn't nearly as much fun as I had anticipated. I'm not sure we'll be doing it next year.

Incidentally, Tito went from about 10am to about 5pm without peeing once. He kept his pants dry, but refused to go on the potty despite our frequent stops for Potty Breaks. Ultimately, he waited until we got home. He still wouldn't sit on the potty, even at our house. He waited until he was in the bathtub, then stood up and announced, "I'm PEEING in the TUB!!!" Hey, at least we know he can hold it when he wants to.



The highlight of my weekend was the PBS Kids-sponsored "Arthur's Picnic in the Park". It's this annual party in Forest Park with costumed characters who sit in tents and kids wait in ridiculously long lines to stand next to them for a picture. I was proud of my kids for being patient while we waited to get Mommy's picture taken with TV Legend, Mr. McFeeley! Ya think Mr. McFeeley's ever been in a pic with a lady's bra strap hanging out of her shirt? I feel like such a tramp, flashing my bra in a picture with Mr. Speedy Delivery.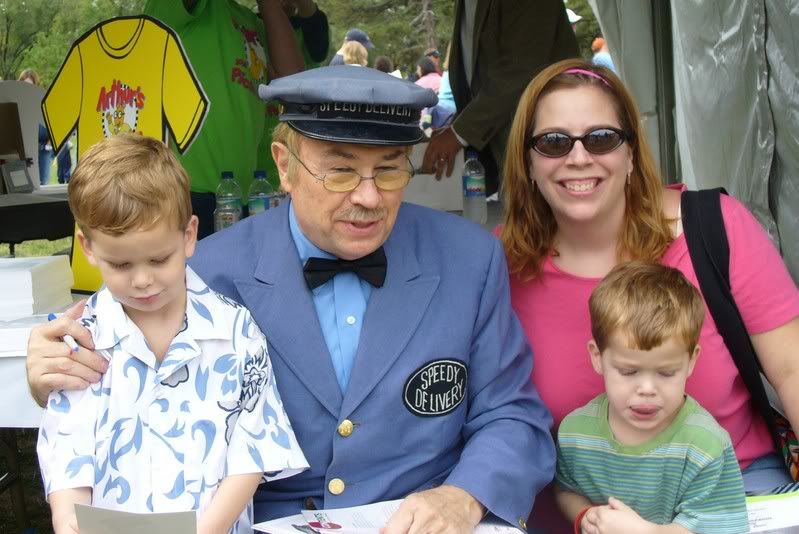 And now, to business. Blogstalking assignment for the week is UFO sightings -"unfinished object", for the Knitting Muggles. I know it's not necessarily well-documented in this blog, but I actually do knit, almost every day, in fact. Here's what I'm working on now.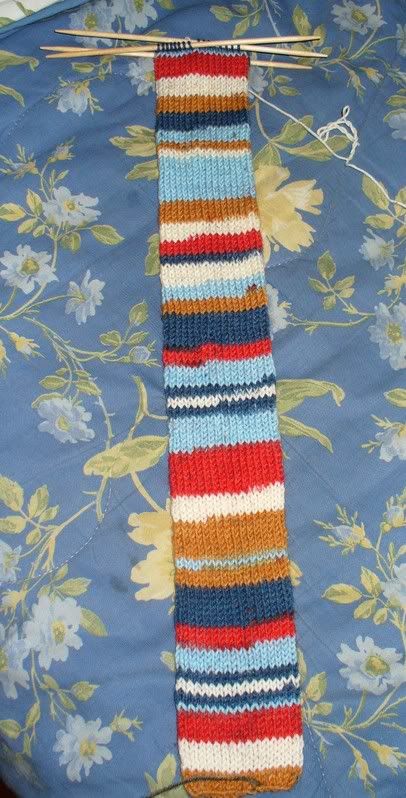 Shut up, I know it sucks. I blame Lion Brand. Magic Stripes, my ass.