Dontcha hate it when you're right in the middle of a perfectly craptacular day and then somebody goes and does something nice and it throws off your Crabby Mojo??

Ok, I don't really hate it. In fact, I love it. I do have to point out the fact that the mail arrived within an hour of my putting on my Power Panties.


Lemme explain real quick for the non-knitters what a CASP is - on the Knittyboards we play Secret Pal where you get assigned a person to whom you are supposed to send yarn and other knitting-related (and non-related) stuff. CASP stands for Cheap Ass Secret Pal. It's the same Secret Pal concept only without the usual spending minimum. It's great. It challenges the participants creatively. Brilliant.


Anyway, so today I got not one but TWO packages from CASP's! Right in the middle of my yucktastic day. Right after I put on my extra-special drawers.


These goodies came from my CASP 3 Parsimonious Pal:




There are Halloween window clings, stickers, three little flashlights for the apes,
candy (not pictured - guess why?), cocoa mix, the book Confessions of a Slacker Mom (ha!), and PENNY KARMA CRACK - Werther's Chewy Caramels!





And these goodies came from my CASP 2, Cheapy Sheepy By The Sea:

A needle bag with Addi DPN's, Opal sock yarn and a pattern, Rowan Summer Tweed (I love this color), a crochet magazine, great Rowan patterns...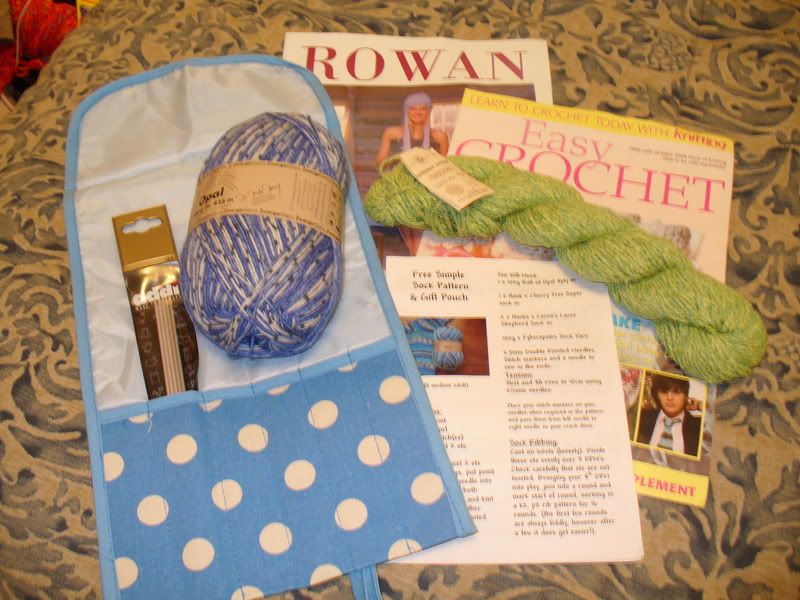 And a lil sumthin sumthin for each of the apes (which they LOVED)!





Nacho says, "Muchissimas gracias!"





Not much TV to talk about this week. Must See TV Thursday was all repeats because of this little thing called the World Series... I'm not going to talk about it until it's over because the Cardinals have a history of choking when they have a 3 games to 1 lead.

Jerry Springer is FINALLY off of Dancing with the Stars, and this week Peter and Sarah were eliminated from the Race (ugh, that Peter!). And Brooke was eliminated on ANTM. I missed it last week, so if I'm way off for asking this, I'm sorry, but - What is Jaeda still doing there?


As far as a weekend preview - tomorrow we're going to a Halloween Party at the Science Center. Should be good.