TV TALK

Is it just me or is anyone else having a hard time getting into this season of Survivor? Maybe it's just early and nobody stands out yet. Emmitt Smith is still my favorite on Dancing With The Stars. And, believe it or not, Jerry Springer is still in it. AJ (the one that looks like Linda Evangelista) is still my favorite on Top Model. The Amazing Race is a great group of contestants this time. I like the single moms, the coalminer and his wife, and Sarah (but not her teammate Peter, he's an ass).

Of course, the most interesting thing on TV this week was the ST LOUIS CARDINALS, BAYBEEEEEEEE!!

In fact, all of my teams won this weekend. My Mizzou Tigers are 6-0 for the first time since 1973 and the Rams are 4-1!


WEEKEND UPDATE

Saturday, we went out to Chez Inlaw for a hayride. It was okay. FIL was nice to me, but apart from that, it was not really a newsworthy event. Oh - FIL asked R if we'd seen that new show Heroes (we have). FIL is very concerned that children watching the show might mistakenly believe that they themselves can fly or run through fire without getting burned like the Heroes do. Yes, he's concerned about the possibility of random kids out there in the world tuning in to a TV show and attempting to do the same things they see on TV, yet the fact that his own kids are emotionally crippled, neurotic wrecks from years of living in fear of his wrath completely eludes him.

Yesterday was another Adventure Day. This time we went West, to the Lake of the Ozarks area to find a magnificent State Park called Ha Ha Tonka. What led us there initially, other than the funny name, was that there are the ruins of a castle that was begun in 1905 by a prominent Kansas City businessman. The man was killed in an automoile accident in 1906 (back when there were like, what 10 cars on the road? Darn the luck.) when the work had just begun, and then in the '20s the man's son decided to finish the castle. It was in use for a while (there are pictures at the park of what it used to look like), but it was destroyed in a fire and now the ruins are part of what I would say is one of the most spectacular state parks I've ever been to.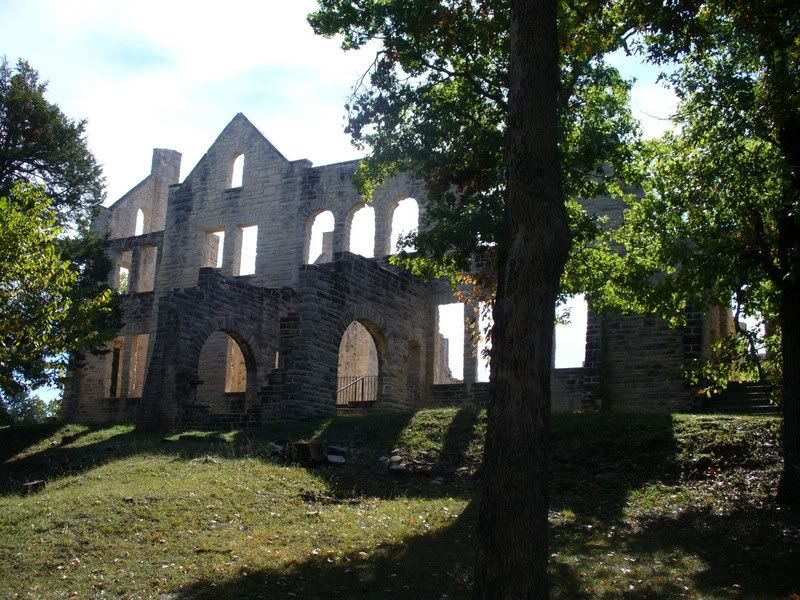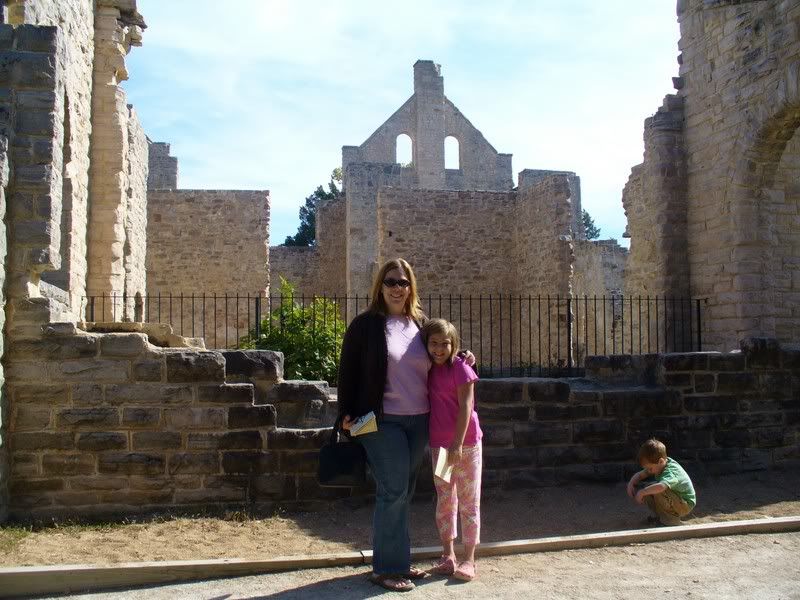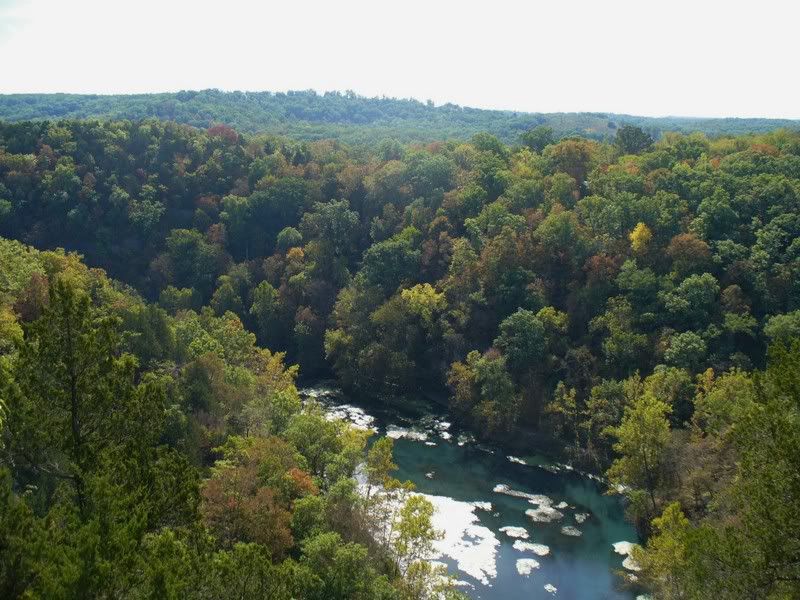 Here's what the spring looks like from the castle.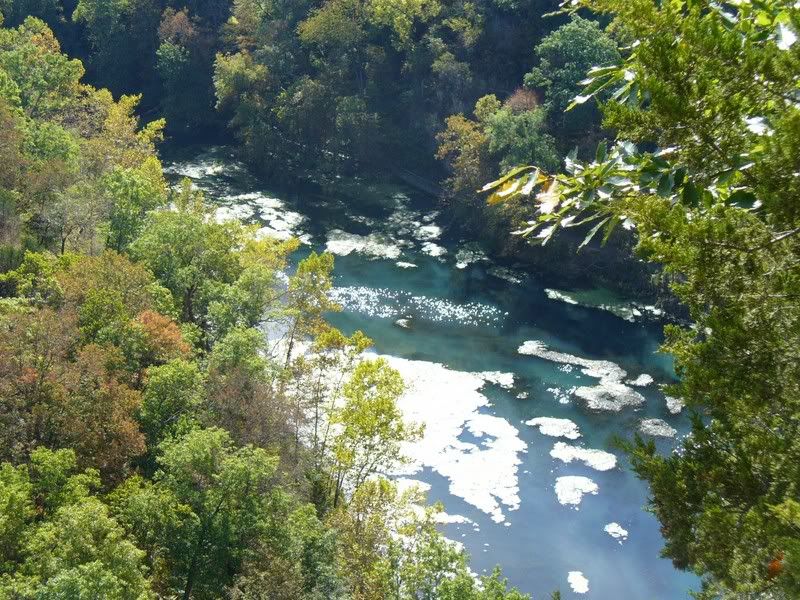 In this pic you can kinda see the trail that runs beside the spring.



We came down the steps that this sign is warning you about.



See?



And at the bottom of the steps was this beautiful spring!


It was a perfect day. Fall colors at their peak, perfect weather, cloudless sky. The park was beautiful and well-maintained, and we all agreed it was totally worth the drive. Everyone got along despite the four-mile hike and spending a total of 6 hours in the car.

The one bad part of the day was that Ry got a big splinter in his finger, so we went to WalMart in Camdenton and got a needle, tweezers and some Band-Aids and while we were there, little Tito very casually mentioned that he had to go potty, so I took him and he went! YAY, T!!!

P.S. I was going to take Beebie's picture next to Highway BB, but she didn't want to.


And as for this week's Blogstalking assignment, the assignment was "a pet's eye-view of the world around him/her". We don't have a pet since the untimely demise of Beebie's WalMart fish Buddy. I figure with three apes in the house, I really don't need any more animals.

I was downloading the pics from Ha Ha Tonka and found these pictures on the camera. L knew I didn't take them. Apparently the boys got a hold of the camera and documented an Ape's View of the World! And since they took pictures of each other, they clearly must have taken turns!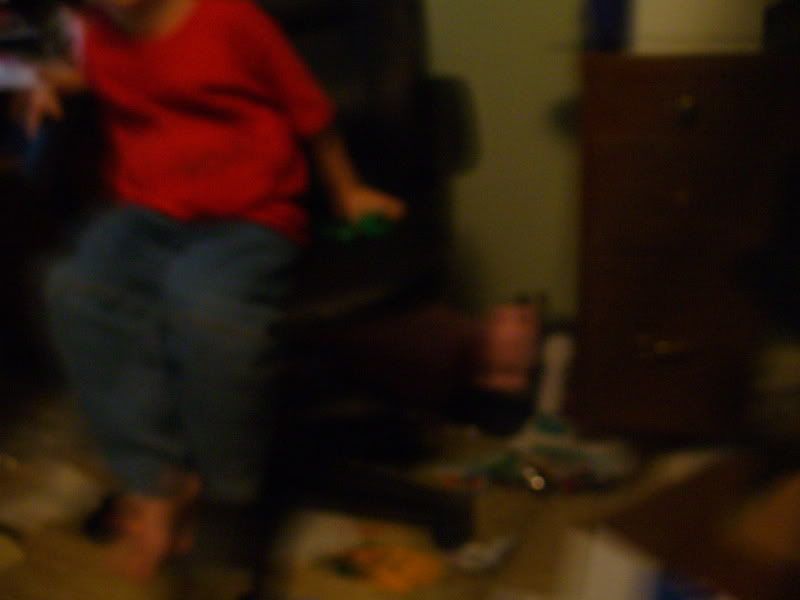 This was taken from the top of the basement steps - the steps which both boys have fallen down before. Tito got stitches.



This is the basement floor. I'm so glad you can't actually see it.



I can't even tell which kid this is.