But first, a big wet sloppy smooch to Pam for pimping my blog for me! MMMMMMWAH!!

So remember April 15th, the date when we had to let Evilite Property Management know if we were planning to stay or go? Five days prior, my husband R called them to ask if the homeowners might consider putting us on a six-month lease. This is obviously the ideal scenario, but I hadn't really considered it as a possibility, as it would require Evilite to do something to make our lives easier.

It's important to note two things here - First, The Dingbat (the one who starts every email with "OK.") is reeeeeeeally nice to R. A lot of people I can't stand are disgustingly sweet to my husband. The Church Nazi is a prime example. Ever since the time she dragged R out of church by the ear because Tito was screaming bloody murder, she's been sweet as pie to him. She's that icky fake-sweet to me. And not like Equal or Splenda, like that nasty Old School Sweet N' Low. Like taking a sip of your mom's TAB when you were a kid - and gagging shortly thereafter.

Second, the only time they pick up the damn phone is when we *67 to block our Caller ID.

So Dingbat was really pleasant when R *67'ed and spoke to her last Tuesday. He told them that we might be transferred out of town when he gets a new job he's applied for, and we've been great tenants for years and we were just wondering if they ever did six-month leases. She very politely offered to contact the homeowners (who live in Colorado) to ask them and let us know. We even said we'd be willing to pay a bit more in rent.

We haven't heard a word. We even called last Saturday again to follow-up, and Dingbat said she hadn't gotten in touch with the homeowners yet. Technically, we haven't even heard if they're planning to rent this property at all. We haven't signed a lease renewal form. We don't know if there's been a rent increase. Nuthin.

So I'm concerned now that April 15th has come and gone and we have no idea where the homeowners stand on how long our next lease will be and how much rent will they charge us. What if they come back and decide they'll only do a one-year lease, and what if they decide to jack up the rent? Will our move-out deadline still be May 15th? We won't have time to move anywhere else if they opt to screw us like that.

If they do, I will move out, and I will fight to get 30 days from the date that they eventually freakin tell us what the hell is going on. Cuz we held up our part of the deal. God, I can't WAIT to not have to deal with these douchebags anymore.

So to encourage myself to save some money, I got this Jean Chatzky book which talks about The Latte Factor - the little things you buy (say, maybe $3 a day) that you don't really need that add up to an amount you should be saving.

And would you like to know what personal sacrifices I am making in order to help achieve our homebuying goal? I'm giving up some of my favorite things.

#1: Believe it or not, YARN. I haven't bought yarn since my sock class, which was on Mardi Gras, February 20th. And that time I only bought one skein. Here's a pic of the sock. This may be the closest I ever get to making a pair of socks.




Before that, the last yarn I bought was for the sweater class four or five weeks prior. Looks pretty much the same as it did the last time I posted a pic of it, doesn't it?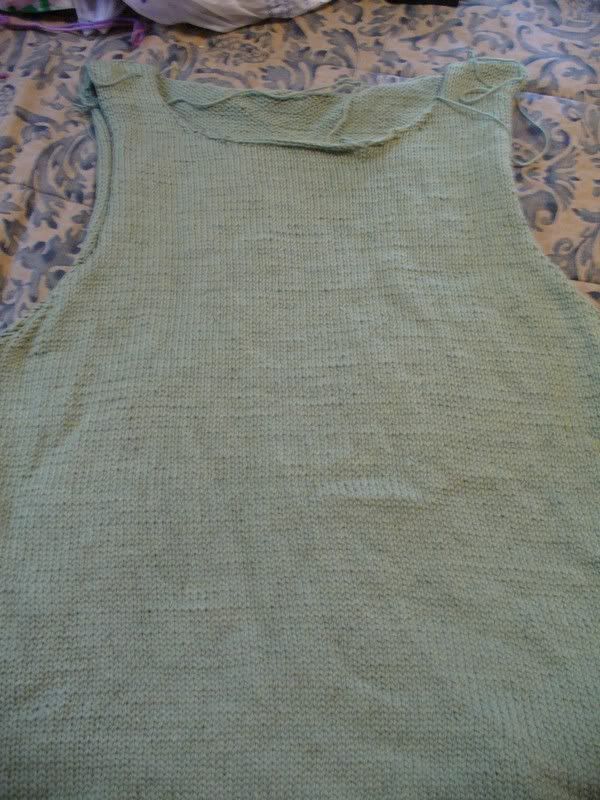 I actually think I can do it. I cut back before I went cold turkey, and I made it through Lent. I've been knitting from stash yarn for the last several weeks, and I actually get a rush out of perusing my stash for the yarn for whatever my next project du jour is.

Here are a couple of my stash yarn projects: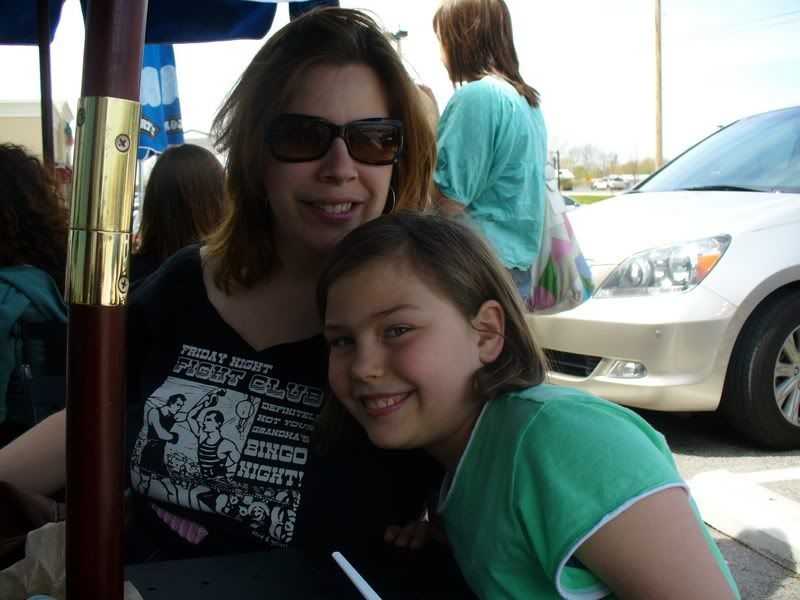 Look right below my sensational boobs. See the pink sash? I made that out of a single skein of pink bamboo and I got the shirt at Goodwill and cut it up to be cool. I felt just like Molly Ringwald in Pretty In Pink.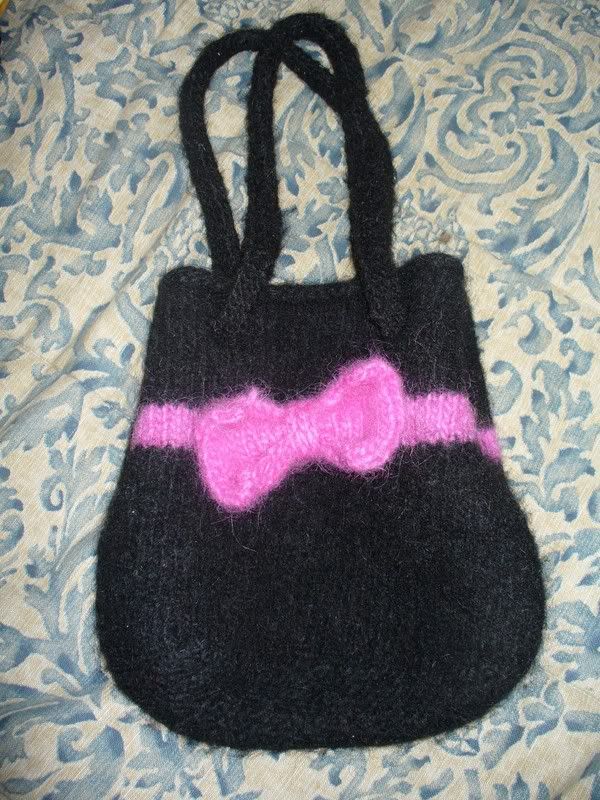 Here's a variation of the Booga Bag, a pattern that I love because they're quick and easy and they make really great gifts. I love being friends with non-crafty people. They're easily impressed. They like Fun Fur, for Christ's sake. That must be how Lion Brand stays in business. Real knitters aren't using it to make stuff for themselves, I don't think.

Oh, that reminds me. I crafted a scarf for a co-worker of my mom's out of that Red Heart fake mohair and boa yarn. The fake mohair was kinda greyish-white and looked like dog hair. I should have taken a picture of it, because words really can't capture its true heinousness. Mom's co-worker LOVED it. She wanted to pay me for it. I declined. Seriously, just remembering what it looked like makes me shudder.





And then of course there's the Magic Stripes Necktie I'm making for the same Sexy Local Meteorologist who wore the Nosewarmer I made him on the air. This one's taking me a while to make because this is my tote-along project that I always have in my purse. I thought that toting it along would provide me with plenty of opportunities to work on it, and it really hasn't happened like that. I think I actually have less waiting time whenever I carry along something to DO.

It's kinda like why I'll never get rid of the crutches we've had for 10 years. As long as I have them in the garage, I can pretty much guarantee that nobody I know will break their leg. But anyway...same principle.




Yesterday I was going to go to Michael's to get some black ribbon for Beeb's Mark Twain costume (which I can't even WAIT to show you, it's so freakin cool), but then I remembered I had some black yarn left from the Booga Bag I made, and I made her an I-cord necktie. I felt like a Bezzilicious thrifty knitting genius.

I decided that if there was something we needed that I could knit (like a case for the camera), I would try to make it. I'm going to make the kids hats for the Renaissance Faire next month. I think I have seen patterns in New Knits on the Block and Folk Hats.




And I'm also making a shrug out of Malabrigo. Yes, those are Namaste needles. (I said I wasn't going to buy YARN - needles and patterns don't count) I bought some Namaste needles from an LYS that had them for 50% off. I don't know if I'm missing the point of them (other than that they look totally cool) but I don't think glass needles are really any faster than the Addis I've been using for other projects.

I truly want to see how long I can go without buying yarn. I think I can go six months, which means I can buy yarn on August 20th (which happens to be FIL's birthday, come to think of it). If there is a certain yarn I need, I will first attempt to trade stash yarn for it. I will then shamelessly beg.

If that doesn't work, I may have to resort to offering sexual favors for yarn. But it better be some DAMN good yarn. I'll be next to Bezzie and her "Will Knit for Food" sign on the street corner.

My sign will say "Will Blow for Malabrigo".

Bezz, if we stick together, we'll never go hungry.


#2: GARAGE/ESTATE/RUMMAGE SALES. I am hereby forbidding myself to go to garage sales. I've talked to the kids about this, and they seem to be on board. I may crack and attend a church rummage sale (gotta support the church!), but I think if I cut impulsive garage and estate sale shopping out of my budget, I might see a difference in our financial picture. Plus, the less shit I buy, the less I'll have to move.


#3: BEER. I figure that's about $20 a month. The boys have enough bottle caps in their treasure box.


#4: I haven't fully commited to this but - MANICURES. As much as I love having beautiful nails, $30 a month is $30 a month.


So hopefully, these four sacrifices will make a significant impact on our ability to sock some money away for home-purchasing expenses. Meanwhile, we're enjoying ourselves while we max out on as much free stuff as possible. Scroll back up to the pic of the pink bamboo sash right below my sensational boobs. That was from yesterday - Free Cone Day at Ben and Jerry's.

Prior to Free Cone Day (which we called "lunch"), we picked up a color TV from a fellow Freecycler. So now the kids can watch TV in the basement.

Today I cashed in $30 from our change jar so that we could purchase a Grant's Farm Parking Pass and drink more than $30 worth of free beer before the park closes for the winter.

For dinner this evening, we're going to a Child ID (photos & fingerprints) event. The promotional signs we saw advertising it promised free admission and free food. If we're still hungry, we can always go to Sam's Club... they have a great buffet.