Ok, it's not the level of drama associated with a kidney infection ER visit, but waking up Saturday morning to no electricity certainly meets my definition of suckiness. The good news was that being unable to shower meant that I was still wearing my Power Panties from the day before, when we went out to Chez Inlaw for an unusually uneventful dinner.

The most interesting thing that happened all weekend didn't happen to me. You might have heard about what they're calling the "Miracle in Missouri", the incredible rescue of two kidnapped boys in my hometown of Kirkwood - one who had been missing for four days, the other for over four years. I couldn't believe it.

In a creepy Six-Degrees-Of Separation thing, I used to live with a guy whose best friend's parents owned the funeral home where the kidnapper worked. The kidnapper also worked at a pizza place just around the corner from the Kirkwood Police Station for 25 years, going to work every day and leaving the boy alone at his apartment. It's amazing how many people came into contact with Shawn during the time he was missing. Shawn even said he'd seen posters of himself when he and his friends went to the grocery store.

I think of myself as a reasonably optimistic person, but I don't know if I could have held on to hope for as long as Shawn's parents did. They established a foundation and helped the parents of other missing kids, and they never gave up. It was wonderful to see such an amazing happy ending to a story that certainly had potential to end badly.

Anyway, we saw that story unfolding on the news while we were at Chez Inlaw. The next day we woke up to the sounds of howling winds and cracking tree limbs. And then *poof*, electricity gone. It turned out to be a good thing we were awake early because, since it was a Saturday, R had to go to work. He drove all the way there, braving the elements, and was told that because the office had no power, he could go home.

In the mail came a check from my parents (which went straight into the bank so my rent check could clear) and the birthday present I bought for myself - that little pink "goKnit" pouch from KnitPicks. Of course, in buying it I caused a check to bounce, so it's going to end up costing me more than $19.99 simply because I'm a big fat idiot. Well, so what. I like it. It's in my purse right now with about 4' of I-cord on it which will become a strap for a purse I'm making out of a felted sweater.

We went to lunch at Red Robin (we had received a gift card for Christmas) and then we came home and the power came back on a little while later, so while the power outage was inconvenient, it was nowhere near the disaster it was the last time. However, we were precariously close to a similar disaster as you can see from the following photos: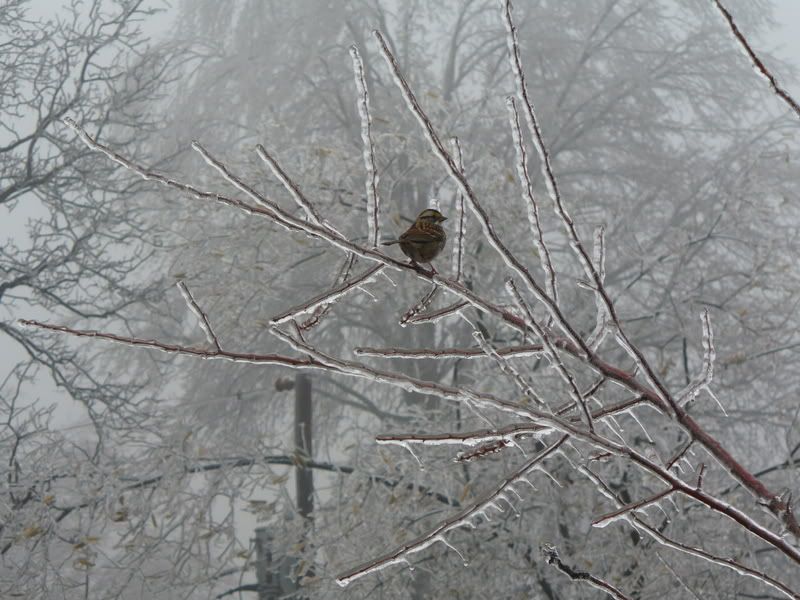 Ice storms can be really pretty.


Or not.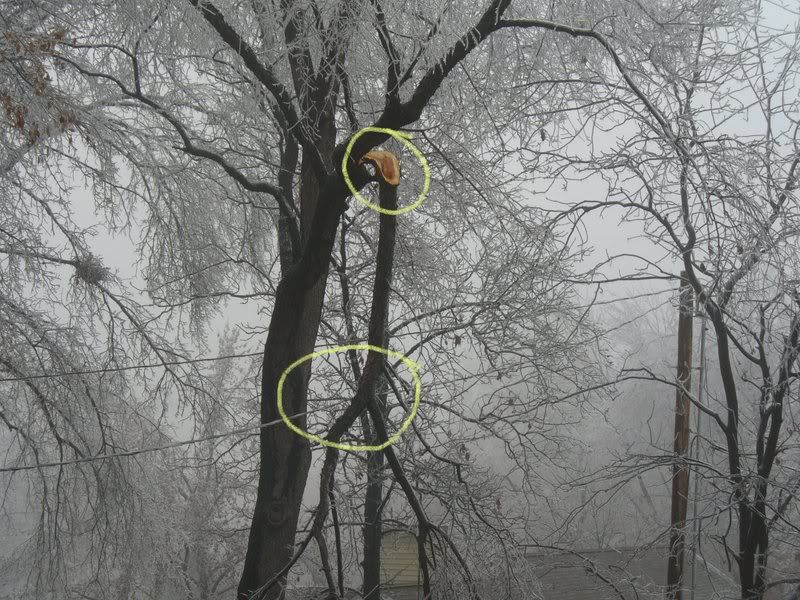 You might recall the reason why I was nervous to see a tree limb dangling so close to my power line, but if you don't, here's what happened to us after a huge storm back in March.




A tree fell on the line, pulling the conduit completely off of the house and causing a miserable 5-day power outage. It would have only been a 3-day power outage, but the property owners were unwilling to pay to have the house brought up to code. Thanks, assholes.

So this morning I saw a truck from the power company who came and promptly removed the errant branch, allowing us to narrowly escape certain doom.

Lemme think, what else can I tell you... um... Oh!

Here's a pic from Tito's birthday party.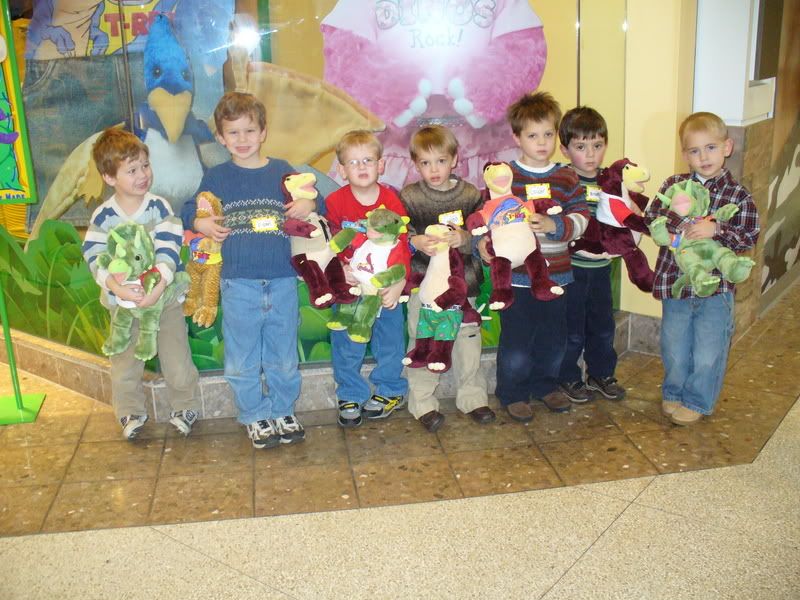 By the way, Tito has learned how to pee "The Pocket Way", meaning that he can go standing up, without dropping his pants all the way to his ankles now. I'm so proud. Sometimes he even puts his hands on his hips, which is quite hilarious. And yes, he's still very creative with the poops.

Also, I was recently vexed about knitting class etiquette and mentioned it on the Knittyboard. For the benefit of the non-knitters, I'll summarize the situation. I signed up to take a knitting class. Here is the actual class description.


Intermediate Knitting
Made a lot of scarves, and ready for the next step? This is the class for you. We will make a simple shell, designed with the yarn of your choice and styled for you. Students will learn the basics of pattern reading, sweater construction, and finishing details.
Skill requirements: Must be able to Knit and Purl for this class.
Class limit-8 students
Sundays, January 14, 21, 28, and February 4 from 2:30-4:00 p.m.
Materials and homework list provided with registration.
Class Fee: $35 per student

I asked about the materials list at the time that I signed up, and they said they would email it to me. A few days later, I hadn't gotten it, so I emailed the store. A few days after that I still hadn't heard back, so I called. I said that I was taking this class and I hadn't received a materials list. I was told to bring a variety of needle sizes, and that we would be choosing our yarn at the first class. I replied that I was hoping to be able to use something from my enormous stash (surely I'd have enough of something to make a shell), and she repeated, no, you'll choose your yarn in the class.

This kinda bothered me a bit. It should have read $35, plus materials. If I wanted to get into semantics, the sentence does technically read that Materials (and a Homework list) would be provided, does it not?

Now, I'm not so foolish as to believe that the yarn would be included in the cost of the class. But, if it hadn't specifically said that a materials list would be provided, implying that I would have ample time to either peruse the yarn that I already own (quite likely purchased at that particular shop anyway) for something appropriate or to go buy something that I could work into my budget, I probably wouldn't have signed up for it in the first place. Nothing against the shop, I'm just poor. Sigh. Lesson learned.

As it turns out, the first class was cancelled due to a power outage anyway, so I'll actually have money to buy yarn at the first class. Still, part of me wants to show up with a grocery bag full of cheapass dishcloth cotton, just for the sake of principle.

I want to thank my Knittyhead friends who wished me a happy birthday! My own kids didn't even say Happy Birthday to me until I reminded them at 8:30pm that it was, in fact, someone's birthday today. My best friend didn't call (which worries me somewhat), and neither did Maddie (which surprised me, since I sent her a card on her birthday). R only said, when the power flashed off, "Wow, this is a great way to start off your birthday."

Not quite the same as actually saying "Happy Birthday," is it?

No. No, it's not.